The 2nd Advisory Board Meeting of NOE (Network Of Excellence) was held at ISM
On June 19th, 2015, the 2nd Advisory Board Meeting was held at the Institute of Statistical Mathematics (ISM).
Former Advisory Board meeting was held at a space space in central Tokyo, which was the valuable chance to introduce our NOE activities and hear the opininons from members of Advisory Board on September 24th, 2012. And this time, we held the meeting at ISM on the day of the Open House, one of the largest events at ISM, to show our hole research activities including NOE Project and get advice from the Advisory Board members.
Four of Six members of Advisory Board of NOE Project from Industry, Goverment and Academia attended the meeting. And Prof. Hicufhi, Director-General of ISM, Prof. Ito, Vice Director-General and Manager of NOE Unit, and directors and vice directors of five NOE-type research centers from ISM. At first Prof. Higuchi Presented the outline and activities of ISM and NOE Project. Then directors of five NOE-type research center introduced their own activities of in each NOE domain.
It took about three and half hours including eager discussion and facility tour for this Advisory Board Meeting. We got very valuable opinion or advice from members of Advisory Board.
Establishing networks and promoting the research style using such networks is one of the greatest missions of the Inter-University Research Institutes. ISM will expand our NOE activities based on the advice from Advisory Board to contibute for strengthening fumction of universities in the third midium term plan which will start coming next year.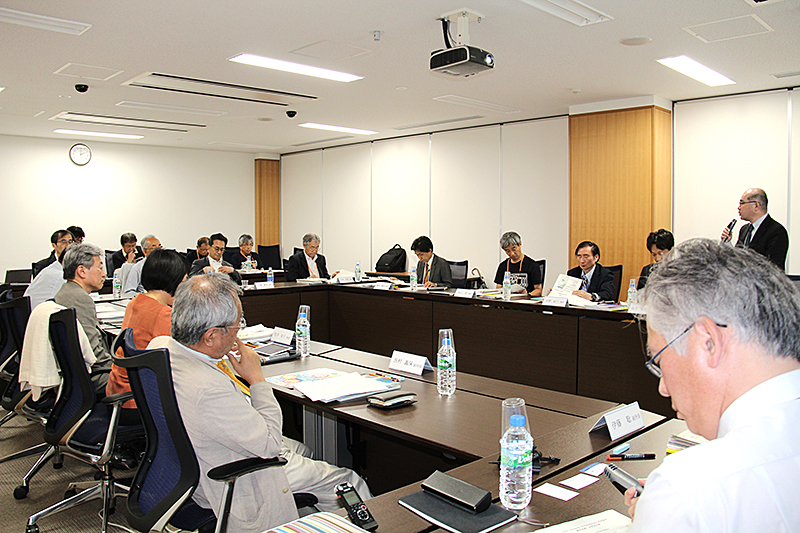 One scene form the 2nd Advisory Board Meeting of NOE Project.