The Report on Service Science NOE Seminar on June 29, 2011.
Service Science NOE held a seminar, hosted by Vice Director-General, Professor Hiroshi Maruyama of The Institute of Statistical Mathematics (ISM), on June 29, 2011.
Professor Joseph Galaskiewicz of University of Arizona and Dr. Yoshiki Yamagata, Senior Researcher of National Institute for Environmental Studies were speakers.
The themes of this seminar were spatial statistical modeling and its application to international politics, urban planning, and environments. The titles were:
1. Dynamic Social Network Analysis of the Formation of International Environmental Regimes-The Ratification of Global Treaties (By Prof. Galaskiewicz)
2. The Market for Youth Service in Phoenix-Research on 'Healthy Communities' (By Prof. Galaskiewicz)
3. Hedonic Analysis of Environmental Factors and Disaster Risk Using a Multi-level Spatial Econometric Model (By Dr. Yamagata)
Each talk was given in English. Professors, foreign researchers and student of graduate school took part in and they frankly exchanged their views in a relaxing atmosphere of this small seminar.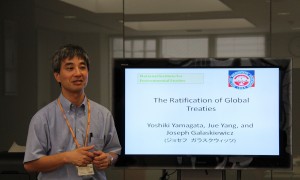 Host: Prof. H. Maruyama (ISM)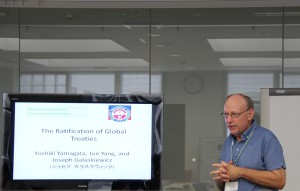 Speaker: Prof. J. Galaskiewvicz (University of Arizona)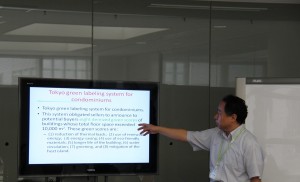 Speaker: Dr. Y. Yamagata (NIES)